Swanson Vitamins Review 
If you read my HERBS page you will see that when I went herbal in early 2012 for chronic pain management, I started by taking Turmeric and Bromelain. 
When I made up my mind to get back 2 good naturally, I started out with the "NOW" brand Turmeric/Bromelain because it was available in grocery stores and I wanted to get on it ASAP.  
I found it very effective.  It averages $18 for a bottle of 90, whereas Swanson's brand of this product is $6.99 for a bottle of 60. 
Even though Swanson's quantity is 1/3 less, if you do the math, you're still spending .20 per pill on NOW's vs. almost just .12 a pill on Swanson's. 
Not only do I take two of these a day, but I have my dogs on them and I give out free samples to people who want a healthy alternative to pain management.  Thus, though I'd love to patronize NOW since I know their product is effective, but I can't justify the extra cost.
I do however, tell people who want
to get started right away, 
to go to their local stores
and spend the money on NOW brand
JUST TO GET STARTED immediately
on a quality Turmeric and Bromelain supplement. 
Then, if and when they realize its immeasurable benefits as I and millions of others have and do, they can use my referral link to get the best deal from Swanson. 
Swanson's must have grown since I began using them because I used to get my order within a week of placing it; now though, they take 2-3 days just to pack it and another full week to get it to me.  
It took me about two full weeks to realize the amazing anti-inflammatory benefits of this product. 
Thus, instead of losing a 7-10 days waiting for your first order, put out the extra for "NOW" brand available in grocery stores, just to get going and get relief!  If after trying it you too enjoy a reduction in pain, then use my Swanson referral link (bottom left column of this page) to place your first order and save $5!  (Also, do what I do and stock up if they have their brand on sale so you don't run out and don't waste money on shipping!)
PLEASE NOTE:  Swanson ALSO SELLS NOW Brand of Turmeric and Bromelain, likely cheaper than the stores.  So once you buy it in the store just to get on it ASAP to feel better, your best purchase price will most likely be found online.  I put the Swanson Item number for it below its picture.
Item: NWF153
 http://www.nowfoods.com/Turmeric-and-Bromelain-90-Veg-Capsules.htm

---
Swanson's Turmeric & Bromelain
This product allows me to NOT need my pain pills
and other pain related Rx's AS THE RULE! 
AND, when I recently went through a severe 8 month pain flare up due to a degraded lumbar spine disc,
I found that by taking it WITH my narcotic,
it allowed me to get both MAXIMUM relief and
LONGER relief from each pill!!!!!! 

WHAT A HUGE VICTORY FOR CHRONIC PAIN PEOPLE!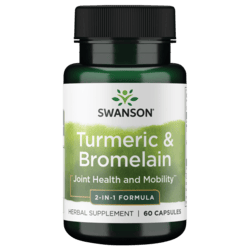 Item: SW1412
---
Swanson's Holy Basil (Tulsi) Extract

This exceptional product allowed me to SUCCESSFULLY discontinue my Cymbalta AND greatly reduce my need for xanax by over 90%!!!!!! 
IT IS A DOUBLE BLESSING AND AS A CHRISTIAN I DO NOT FIND IT AT ALL COINCIDENTAL THAT IT HAS "HOLY" IN ITS NAME BECAUSE IT TRULY IS A GIFT FROM GOD! 
People need to realize that God gave us herbs
long before man gave us prescriptions! 
And in case you don't know this,
MANY Rx's ARE PLANT BASED!!! 
So if you are on the fence about going herbal,
truly I ask you to ask yourself,
when you consider that immutable fact, WHY?
I'm not saying every herb is safe and/or safe for all. 
You have a responsibility to yourself
to do your due diligence and research everything. 
Read Spinal Trap, read the links of other sites that it contains. 
Talk to your pharmacist and medical team. 
Then go with your gut because God also gave us our instincts!
I'm not a vegetarian but they do offer this in a vegan option too.  The one pictured is not the vegan option. 
Item #SWH144 is the one that I have ordered since 2012.
They offer a VEGAN bottle too which looks identical and costs $1 more.  If you don't care about that, make sure you use this item number.  The Vegan version says "VEG CAPS" in its description.

MAKE SURE THAT YOU ALWAYS ORDER THE EXTRACT VERSION of this or any supplement because when I asked Swanson's Customer Service what that meant, she said, "Extract is always a more pure version than something just from the leaf."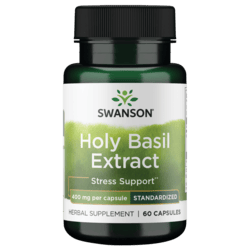 Item #SWH144 
 
---
Swanson's Valerian Root, Rhodiola, & Holy Basil Stress Complex
Valerian root is an anti-spasmodic.  Thus, it has been a huge blessing to help reduce and eliminate my previous severe and chronic painful spasms due to spinal cord damage and sciatica. 
Though I can still get both of those pain types, this product manages me so well that I actually discontinued use of Baclofen (an Rx for people with Spinal Cord injuries and MS) and Neurontin. 
I call neurontin, "neurotten" because of its numerous rotten side effects that were consistently far greater than any relief it ever gave!  To learn more, please read this Spinal Trap page:
http://www.spinaltrapb2g.com/sciatica_neuropathy_neuritis__neurontin

This product also contains Holy Basil which means that instead of following the label directions on Holy Basil to take two daily, I don't need to because this dose of it in the evening, works perfectly well!  Thus, a $5.39 bottle of Holy Basil Extract quantity of 60 is a TWO MONTH supply, not just one! 
Rhodiola is another fantastic herb for which I am grateful for managing anxiety and depression.  Most herbs have multiple uses, to learn more about Rhodiola, click here:
http://www.herbwisdom.com/herb-rhodiola.html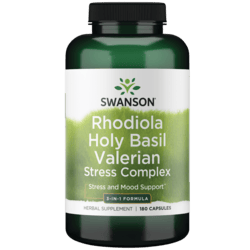 Item: SW1114
---
Swanson Gingko Biloba 24% Extract
Let me tell you, I used to take regular gingko 60mg.  I never noticed an increase in energy and/or mood.  But when I began this particular type?  24% Extract, WOW!  I don't know what it's like to be on drugs but I do know that THIS product gives me a natural high! 
During my recent L-disc degradation pain, I wasn't happy every day but I was MUCH happier overall during such chronic severe pain as compared to before when battling such pain and not being on it!
For the record, Nature's Bounty makes it too so you don't have to order it from Swanson to enjoy it.  But if you are going to order from them and want to not waste money on shipping by meeting their minimum, this is a great product for chronic pain, depression, anxiety and insomnia since every single one of those diagnoses individually, let alone combined, strip a person of energy and that of course, impacts our moods and attitudes.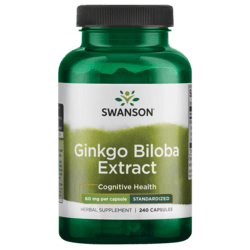 Item: SW893
MAKE SURE YOU BUY THE 24% EXTRACT.  REGULAR GINKGO DID NOT GIVE ME THE SAME GREAT BENEFITS THAT THIS 24% EXTRACT DOES!

---
Melatonin
I have 3 different types of this Swanson's product, you will find them all below with the item numbers of each directly UNDER each picture. 
These products range in price from $3- $6 but prices do vary because they regularly run sales that offer 20% off of all Swanson brands and BUY ONE GET ONE FREE on the 10mg dose is very common. 
Since I take over 20 supplements a day, I ONLY order from them when they run such deals and then I stock up heavily so that I only need to order a few times a year.  I also never pay shipping!
Make sure that you use my referral link (below left) so that you can not only get $5 off of your first order but automatically get email offers about these specials.  My favorite ones are when they offer free shipping at $25 or at only .01 with any purchase AND give 20% off their brand!
My favorite melatonin is their 3mg DUAL RELEASE: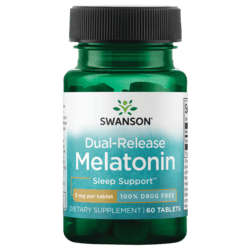 Item: SWU114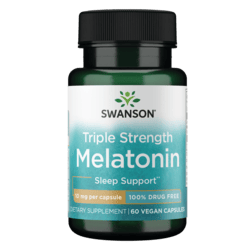 Item: SWU305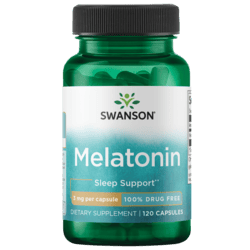 Item: SW502
Per Heidi in Swanson Customer Service @ 10:42am Tues 11/29/16 
Instead of printing an expiration date on their products,
the date they print is the manufacturer date.
I asked what the expiration date is, one year or two? 
She said on capsules, soft gels and tablets, its two years.  
This policy may change so please be sure to pay attention to the label
and if you have any doubt or questions, please call them yourself
to verify what you need to know.  I may not be aware of such changes and cannot promise to keep up with knowing if and when they occur.