iHerb
 I first stumbled across this site in 2015 and am I glad! 
I've placed at least four orders with them since then
and had zero complaints until my latest one,
which you will find detailed under the "Cons";
but depending on your shopping needs,
one or both be a non-issue for you. 
Pros:
Prices are very competitive and there are additional discounts for ordering 4 or more of an item.  Thus, if you are like me, when you find a great deal, you stock up! 
If you use my referral link below you will get an additional $5 off of your first order!

A VERY NICE BENEFIT is that they give you a "Loyalty Credit" on every order.  It is approximately 10% of your order total. 
I like that because it breeds loyalty in getting you to come back and they give you 60 days to use it which is a very decent amount of time.   They also send reminder emails which I find beneficial since out of sight is out of mind for so many.

There are so many companies who send TOO many emails once you order from them and/or sign up with them.  To iHerb's credit, they do not bombard you with emails.

Another nice perk to iHerb is they have a link at the top of the page called "Super Specials" that give you PHENOMENAL discounts on numerous products to incentivize you to try them. 
There is a maximum of two per purchase. 
If you try to buy more than two, one of the items will revert to FULL PRICE so PAY ATTENTION to your cart. 
Note: Once you buy an item at that super price,
you can't get it again.
Fairly fast free shipping if you order the minimum amount for the type of shipping you choose.  (UNTIL my latest order, now you will find the shipping has become a con.)

Items consistently received in less than a week from time the order was placed. 

Cons:
One VERY BIG DRAWBACK (that is new) is when I called them on 6/3/16 for assistance with the shipping aspect of my order. 
Their automated system said that they quit providing customer service via phone, so do a chat or email them.  I get not having phone assistance if you are a one man (or woman) show; but not for major companies like this; it is lazy, cheap and uncaring.

That news however, would not have been so bad if when I resorted to the chat option, I actually got a person who was responsive and helpful. 
I did not.  Fei was too busy doing ??? to help me. 
Thus I ended that chat and began another, specifying my frustration to the guy with a plea to just help me with my simple inquiry.  Unfortunately, Khotter was no better so I closed that chat out too and proceeded to try and figure out the issue myself.  I was unable.
On 7/1/16 I emailed them to get the answer about shipping fees that their chat people never gave and though I got a reply back the same day apologizing and thanking me for writing and letting me know that they would update me once they "coordinate this to our proper department" it is now 7/15 and I have yet to hear from them.  Thus, to only offer customer service by chat or email and then FAIL SO BADLY AT BOTH, is really as unnecessary as it is unprofessional.
If non-existent customer service doesn't bother you,
this should be a non-issue for you.

The other major drawback is that they penalize PO Box users. 
Prior to today's order, you could get free shipping on just $20 IF you shipped to a physical address.  I don't, so I always had to spend $40 to get free shipping to my PO Box; given that I take over 20 herbs, vitamins and supplements daily, it isn't hard for me to meet minimum orders of $40.

For reasons I never got answers to from their chat staff, my order initially showed a $6 shipping fee.  I never waste money on shipping since so many sites offer it free, so I began the chat when it was at $6 to ask why and if there was a new higher minimum amount needed to be free?
Since I couldn't get them to help me, I tried to figure it out on my own.  I kept adding items to my cart until I got to $80 just to see what would happen and though I got the shipping fee to drop to $2, it was never free. 
Now, $2 isn't the end of the world but on principal I find it displeasing to be charged any fee just for using a PO Box.
Especially when so many neighborhoods today have group mailboxes that are essentially no different than using a PO Box.
I get my supplements from Puritan's Pride at my PO Box sans shipping fees, ditto Pure Formulas, Swanson Vitamins and Vitacost too.  Though the last two do have minimum purchase requirements to get free shipping but Puritan's Pride and Pure Formulas do not.

I really hope iHerb re-thinks this or re-negotiates with their carriers if they aren't getting billed as competitively for delivery, as their aforementioned competition.
As importantly, I hope that whomever is in charge of Customer Service is replaced with a Manager worth his/her salary who trains all staff in appropriate and efficient responses, for both chats and email.  IN THIS RECESSION, NO EMPLOYER HAS ANY EXCUSE FOR HAVING POOR PERFORMERS ON STAFF.

Thus, please be aware of this delivery penalty fee that is also new and UNcustomer service friendly.  Again though, if you don't use a PO Box and/or don't mind paying shipping fees, this too should not be problematic for you.
Overall, prior to today's order issues w/chat and shipping, I had nothing negative to say about iHerb and since my number one priority is receiving quality products at great prices, I will continue to patronize them unless their PO Box shipping fee penalty continues to climb.  If that happens and it offsets the savings, then I will shop elsewhere since we are blessed in this great country with so many choices! 
Again though, if you know what you need and have no issues w/the PO Box delivery penalty fees and/or absent customer service, then  give them a try and form your own opinion. 

If you want to give iHerb a try,
please use my referral link
to enjoy an extra $5 off of your first purchase!  
http://www.iherb.com?rcode=PSW684

---
Chronic Low Back Pain = Nasty Feet/Heels
One of the numerous byproducts of chronic low back pain
is the difficulty of keeping up with basic things
like rubbing vitamin E cream all over my body
and feet daily, after my shower.
Bending over isn't an option when your low back aches. 
When you become sedentary for years due to chronic pain,
you no longer have the same flexibility and ease
of raising your feet up to apply cream this way either.
Thus, you are left with nasty, dried out cracked heels
that make you look about 90 years old from the ankles down!
Not being able to wear cute shoes anymore
is also a byproduct of chronic spinal pain
but I got to the point where I was embarrassed to leave
the house in my comfy open shoes that showed my
unpainted toenails and worse, badly cracked heels. Until...
I found this product on iHerb! 

I am grateful to share that it is SO effective, I enjoyed
vast improvement within the first couple of weeks of use! 
I apply to dry feet right after my bath or shower
and then immediately put socks on for the rest of the night.
I'm telling you, if you too are embarrassed
by ugly heels as I was,
you don't have to be!
When you try something new you typically just buy one
until you know if you are going to like it. 
That's what I did with the foot butter. 
I bought one for $4.99. 
When I was placing an order a while back
and iHerb had it in stock,
I was shocked to see that it was $9.99! 
I don't know if they actually doubled the price
or if I simply got it on special
but believe me when I tell you that from now on,
I will order multiple ones when it is on sale
because that's quite a cost difference.
If your feet are as hideous as mine were,
I still recommend spending the $9.99
if you can't get it cheaper because it gave me
stupendous results fairly quick and isn't that what we all want? 
Thus, if your goal is to not be embarrassed
by your feet, it's worth it.
Plus, you may find that just one container gets you back 2 good and then you can resume using a less expensive product
to maintain the gains it gave. 
Prior to my feet becoming dry and cracked,
I always used the Vitamin E creme that Sam's Club
sells for about $7-$8.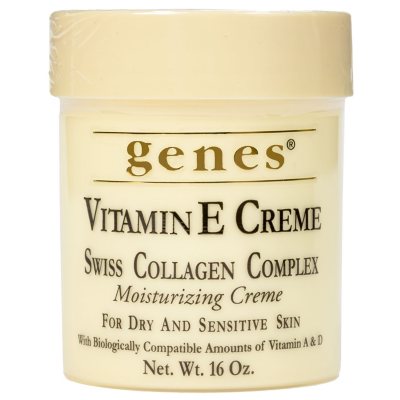 This stuff is SO thick and rich that if you put it on
after your shower, your skin will feel great
and have a nice sheen until your next bath! 
For the record this Vitamin E cream,
did not heal my dry, cracked heels.
ONLY The Seaweed Bath Co. Foot Butter did!
Once I saw how well it worked,
it made me wish I had thought to take "before" pictures
of my nasty cracked feet before using it
so that you can truly appreciate its wondrous efficacy.
Now, when I went to re-order it today,
iHerb was out of the foot butter

so I ordered this instead figuring it has to be just as good:

After I give it a fair chance, I'll update this page so check back!
Don't forget to use my referral link above
to enjoy extra savings!
Be Grateful, Be Well
Grace Kelly, CHLC, CPLC